"It's about bringing people together"
When I met my wife Layne on a blind date, the likelihood of us hitting it off was slim. We were from completely different worlds. My livelihood was nocturnal and hers was dayturnal. I worked inside and she worked outside. I drank white wine, she drank red. Then we discovered Rosé, something we both loved. Late one night, on Tour with INXS, Layne asked me "what do we have in common that will keep us together?" I answered, "Rosé." Now, nearly two decades later, I wanted to make a Rose that celebrated our marital bliss.
So, how did it come about and what do I know about making wine.? Well, more than I did last year when we launched our first, 2021 Vintage... But I know what I like and, I'm learning, lots… Coming from a background of RockStardom, my life has been about bringing happiness to people, entertaining them, and that's what wine is about too – it's about bringing people together. On Tour, I sampled a lot of top-shelf everything from around the world over the years, but had never actually thought of making wine. I guess it really starts with a cellar and an appreciation for good wine, then an idea from a friend – "Let's make some, and put your name on it…" So, the journey started in 2015 with Craig, a good friend pushing it along. We soon had a winemaker lined up but then Craig took a job in the U.S. So, straight to the back-burner. One weekend in early 2020 Layne & I were staying with some friends, Mike & Vanessa up Byron way and I mentioned that I had toyed with the idea of putting out a Rosé a few years back. That idea planted a seed in Mike's mind, having "tinkered" with wine making himself, and a few months later he mentioned he'd been in touch with an award-winning young winemaker from McLaren Vale, who was interested – Rob Mack (Aphelion Wines). After a bunch of conversations and much assorted Rosé tasting, we honed in on what we liked and formed KPWine Pty Ltd.
And here we are with our Second Vintage of "Kirk Pengilly Rosé" – 2022. Again, a mixture of Grenache & Mataro (uncertified) organic grapes grown in the best, Family Owned small vineyards in McLaren Vale. We've maxed out their supply this year, producing around 320 cases. We love the end result and trust you will too…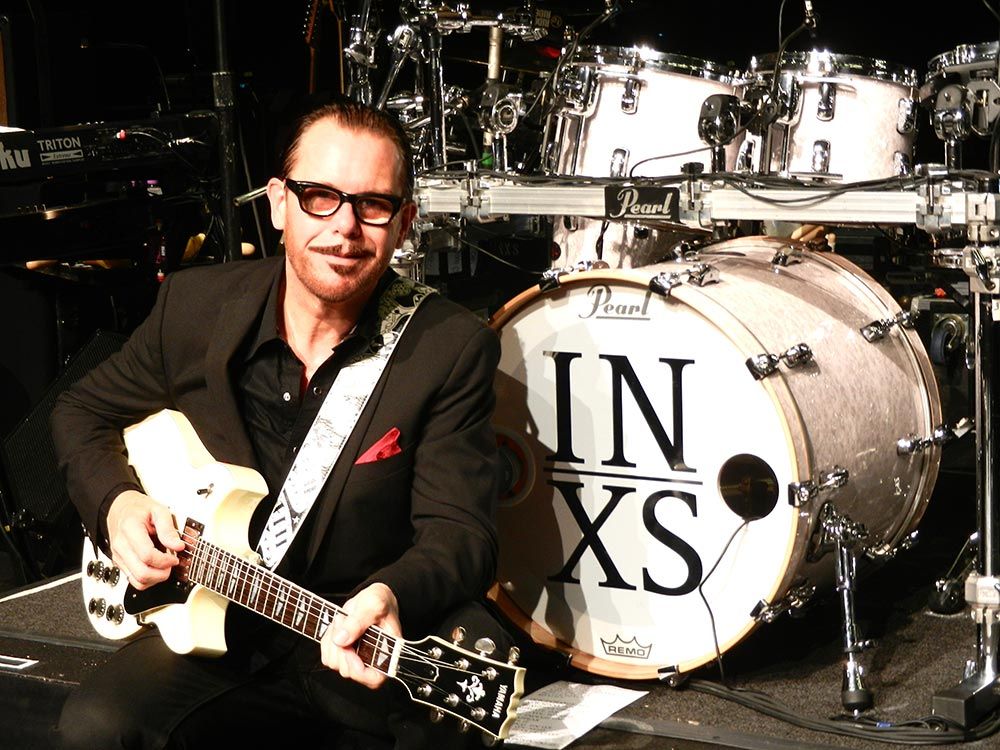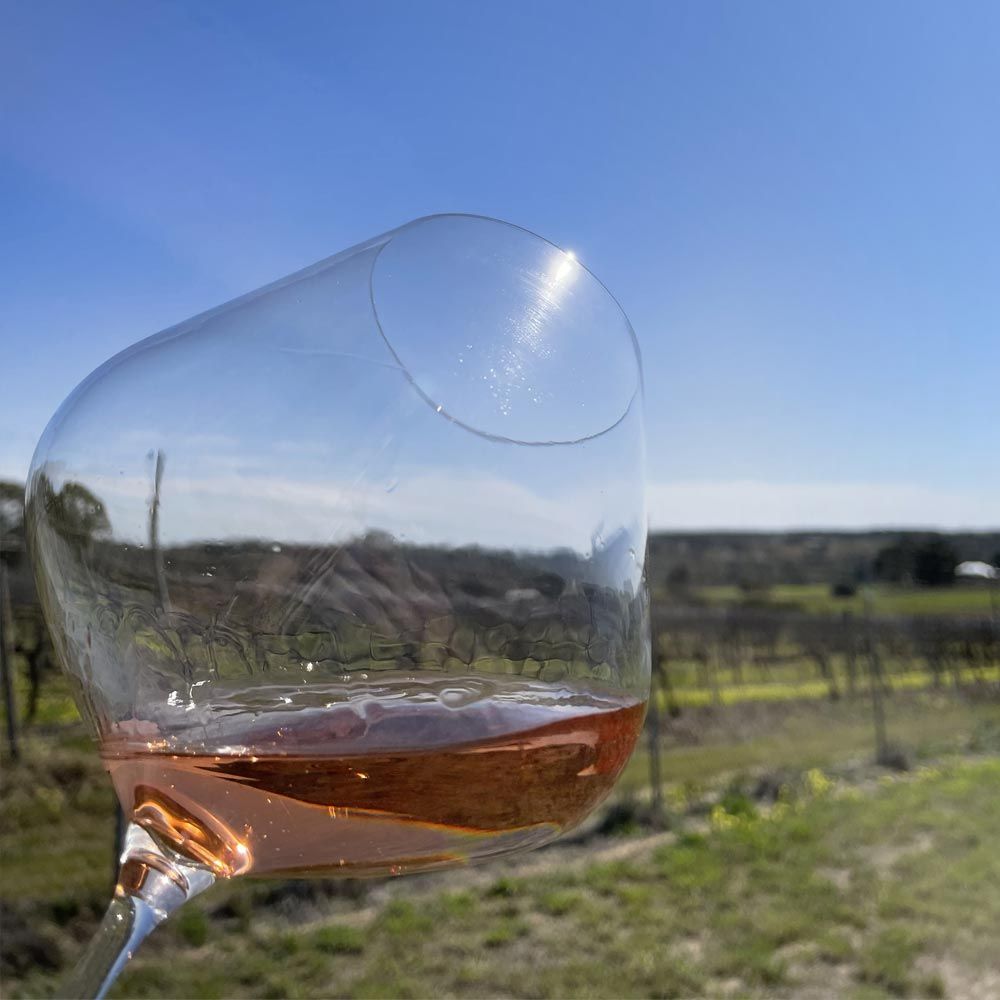 Grenache is the hero
Grenache is the hero of this wine displaying its
aromatic qualities of red berries, Turkish delight and
cinnamon spice. 15% of the blend is Mataro which
contributes a textural element along with earthy
spices. A combination of stainless steel and oak
ferments were used and the wine was left on
lees for several months after fermentation
to impart additional layers of complexity.
2022 Rosé
Variety: A blend of 85% Grenache and 15% Mataro.
Summary: Fresh vibrant fruit characters mingled with citrus and spice aromatics are the hallmarks of this wine. Bright juicy red berry characters dance through the palate with bright acidity and subtle tannins provide a good structure and mouthfeel.
Tasting Note: A beautiful salmon-orange colour, aromatics of fresh flowers and just ripe strawberries jump out of the glass. Blood orange, grapefruit and cranberry characters mingle on to the palate with fresh acidity keeping the wine lively and vibrant. A slight rasp of powdery tannin adds a savoury element and provides good palate length.
Goes With Food: Best with lightly spiced Thai based seafood dishes, but we really think our Rosé goes with anything.
Goes With Cheese: Yes, it does…
Goes With Life: Fruit driven and energetic, chilled down this wine is a perfect choice anytime of the year. We're all about quality, fun and celebration at all times.
Serve At: 8-10 degrees Celsius.
When to Drink: Ready to drink now.
Vineyard: The Grenache is grown as bush vines and is from the Hickinbotham vineyard in the Clarendon sub-district of McLaren Vale. The Mataro fruit is sourced from the Yangarra vineyard near Kangarilla. Both vineyards are certified Organic.
Winemaking: Winemaker – Rob Mack (Aphelion Wines). The Grenache was hand-picked and whole bunch pressed with no crushing to both stainless steel tanks and old French oak puncheons for ferment. The oak ferments were allowed to get warm to impart texture and complexity and once ferment was complete the wine was left on lees. The Mataro was hand-picked and whole bunch pressed with no crushing to stainless steel tank to ferment. The ferment was kept cool to retain freshness and varietal character. Once ferment was complete the wine was kept on lees to add some texture. The batches were combined just prior to bottling in August, 2022.
Production: 320 dozen produced under screwcap.
Vegan friendly.
Mike Duff - Vigneron
Mike has had a solid 42 years experience drinking quality Australian red wines. Growing up in Adelaide, Mike's mum took him on his first winery tour for his 18th birthday to the McLaren Vale and the love affair began, particularly with Grenache and Shiraz grapes.
In his mid 20s Mike moved to Sydney with his cellar of 100 cases of red wine but the relationship with the Vale continued as he introduced his Sydney friends to the delights of the region.
The passion and obsession was only just clicking into gear and it wasn't long before Mike had planted his own vineyard in the Hunter Valley and he headed off to study winemaking at the Hunter College. Mike has several vintages in the Hunter under his belt.
Over many a long lunch with Kirk and Layne, Mike and his wife Vanessa were introduced to Kirks wine of choice, Rosé. Particularly Grenache Rosé! After hearing Kirk talk for several years of his desire to bottle his own Rockstar Rosé, Mike decided it was time for action and bought the team together and who better than the 2018 Australian Young Gun of the Year Rob Mack and the Aphelion team to work with!
KP Wines Rose - serious RockStar Rose!
Rob Mack - Aphelion
"Aphelion Wine Co. was established in 2014 by husband and wife Rob & Louise Mack and has gained a strong reputation for quality and value. Pedigreed winemaker Rob Mack concentrates on grape varieties that thrive in the Mediterranean climate of McLaren Vale, producing stylish Grenache as well as other regionally emerging varieties, such as Nero d'Avola and Chenin Blanc. "We craft our wines to match the foods we love to eat - Italian, Mediterranean, and Asian." It starts with the sun and the earth. Aphelion Wine Co.'s growers are passionate about producing premium, hand tended grapes from only the most select, unique parcels of land. Aphelion has been awarded trophies at several wine shows, including winning the Young Gun of Wine award and taking out the trophy for Best Small Producer in McLaren Vale at the 2019 McLaren Vale Wine Show. This year, Rob was a finalist in the James Halliday Winemaker of the Year, 2023.
 
Rob is a Bachelor of Wine Science graduate from Charles Sturt University (and took out the University Prize for Sparkling Production), and is an active wine show judge at both regional and capital city shows. He has completed the AWRI Advanced Wine Assessment Course and was a scholar of the Len Evans Tutorial in 2019."
Kirk Pengilly Rosé
Available at these Establishments -
Hugo's (Manly Wharf, NSW)
Ponte Bar and Dining (Shoalhaven River, Nowra, NSW)
Lello's Pasta Bar (Brunswick Heads, NSW)
Cottage Point Inn (Cottage Point, NSW)
Raw and Wild (Bowral, NSW)
Balsa at Harbord Hotel (Freshwater, NSW)
The Herring Room (Manly, NSW)
Pasadena (Church Point, NSW)
The Rockley Pub (Rockley, NSW)
Our Place @ Willunga Hill (Willunga Hill, SA)
Lees Fortuna Court Restaurant (Crows Nest, NSW)
Angourie Cafe & Wine Bar (Angourie, NSW)
Crooked River Winery Restaurant (Gerringong, NSW)
The Lion Hotel (Nth. Adelaide, SA)
Mrs. Robertsons Lounge Bar (Newport Beach, NSW)
The Shorehouse (Swanbourne, WA)
Lamont's Smiths Beach (Yallingup, WA)
The Cumberland (Manly, NSW)
Masala Kitchen (Dee Why, NSW)
Paper Daisy @ Halcyon House (Cabarita Beach, NSW)
The Artisan Cheese Room (Manly, NSW)
8 At Trinity (Trinity Point, NSW)
Pilu At Freshwater (Freshwater, NSW)